POLÁNYI János (John C. Polanyi)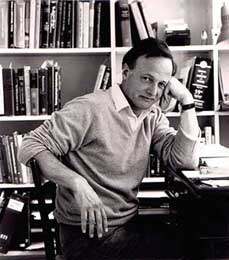 Biografie:

Geboren: 23 januari 1929 - Berlijn (Duitsland)
Als: Polányi János
Overleden: ---------

Nobelprijs 1986 Scheikunde 'for their contributions concerning the dynamics of chemical elementary processes' (samen met Dudley R. Herschbach en Yuan T. Lee).
John Charles Polanyi werd geboren op 23 januari 1929 in Berlijn, Duitsland, als Polányi János, zoon van Hongaarse ouders, Mihály Polányi en Magda Elizabeth Kemeny. Zijn vader was een alom gerespecteerd natuurwetenschapper. De familie week in 1933 uit naar Manchester, Engeland, waar hij zijn universitaire opleiding kreeg hij op Manchester University, waar hij zijn B.Sc. behaalde in 1949 en zijn Ph.D in 1952. Van 1952 tot 1954 was postdoctoraat assistent aan het National Research Council Laboratories in Ottawa, Canada, en van 1954 tot 1956 Research Associate aan de Princeton University. In 1956 was hij werkzaam als docent aan de Universiteit van Toronto, waar hij opeenvolgend Assistent Professor (1957-60), Geassocieerd Professor (1960-62) en Professor (1962 tot op heden). Hij kreeg de (ere)titel van Universiteitsprofessor in januari 1974.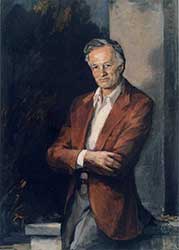 Polanyi's portret in olieverf
door Brenda Bury (1997).
I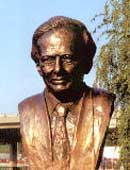 n 1958 huwde hij met Anne (Sue) Ferrar Davidson, een musicus en pianolerares. Polanyi omschrijft zichzelf als een muzikaal onbenul. Zijn esthetisch genot wordt hem verschaft door kunst, literatuur en poëzie. Hij en zijn vrouw hebben respectievelijk woord en muziek geschreven voor parodieën voor professionele opvoeringen. Op meer lichamelijk actief terrein wisselde Polanyi zijn jeugdenthousiasme voor wildwater kanovaren en luchtacrobatiek voor skiën en wandelen. John en Sue hebben samen twee kinderen, Margaret Alexandra (een journaliste, geboren in 1961) en Michael Ferrar (een fysicus en politiek wetenschapper, geboren in 1963).

Hij is actief bij het Bestuur van Ontario Laser and Lightwave Research Centre, Canada (sinds 1988), is Bestuurslid bij de Steacie Institute for Molecular Sciences, Canada (sinds 1991), Lid van de Science Advisory Board, Max Planck Institute for Quantum Optics, Duitsland (sinds 1982) en is Ere-Consultant aan het Institute for Molecular Science, Okazaki, Japan (1989-1992). Hij was Stichtend Lid en thans huidig Voorzitter van het Canadian Committee of Scientists and Scholars, Stichtend Lid van The Royal Society of Canada Committee on Scholarly Freedom, Lid van de American Academy of Arts and Science Committee on International Security Studies en Bestuurslid van de Canadian Centre for Arms Control and Disarmament waar hij thans nog steeds fungeert als adviseur.

Hij kreeg de Marlow Medal of the Faraday Society 1962 toegekend, de Centenary Medal of the British Chemical Society 1965, de Steacie Prize for Natural Sciences (samen met N. Bartlett) 1965, de Noranda Award of the Chemical Institute of Canada 1967, de Henry Marshall Tory Medal of the Royal Society of Canada 1977, de Wolf Prize in Chemistry (samen met G. Pimentel) 1982, de Izaak Walton Killam Memorial Prize 1988, de Royal Medal of the Royal Society of London 1989 en de John C. Polanyi Lecture Award of the Canadian Society for Chemistry 1992.
In het Lash Miller Chemical Laboratory, University of Toronto, 1982.

De drie Nobelprijswinnaars Scheikunde 1986:
Dudley R. Herschbach, Yuan T. Lee en John Polanyi.
Hij is lid van de Royal Society of Canada (1966), de Royal Society of London (1971), de American Academy of Arts and Sciences, (1976), de U.S. National Academy of Sciences (1978), de Pontifical Academy of Rome (1986), de Royal Society of Edinburgh (1988), een Erelid van de Royal Society of Chemistry of the United Kingdom (1991) en van het Chemical Institute of Canada (1991).

Hij ontving eretitels van de Universiteiten van Waterloo (1970), Memorial (1976), McMaster (1977), Trent (1977), Carleton (1981), Harvard (1982), Dalhousie (1983), Rensselaer (1984), Brock (1984), St. Francis Xavier (1984), Lethbridge (1987), Victoria (1987), Ottawa (1987), Sherbrooke (1987), Laval (1987), York (1988), Manchester, England (1988), Montreal (1989), Acadia (1989), Weizmann Institute, Israel (1989), Bari, Italy (1990), British Columbia (1990), Concordia (1990), McGill 1990) en Queen's (1992).
Hij werd Officer of the Order of Canada in 1974 en een Companion of the Order of Canada in 1979.

Bovenop zijn wetenschappelijke geschriften, publiceerde hij ongeveer honderd artikelen over politieke wetenschappen, over de controle en de impact van de wetenschap op de maatschappij. Hij produceerde zelfs een film 'Concepts in Reaction Dynamics' in 1971 en was mede-uitgever van een boek 'The Dangers of Nuclear War' in 1979.

In 1986 werd hem, samen met Dudley R. Herschbach en Yuan T. Lee, de Nobelprijs Scheikunde toegekend. Voor Polanyi was dit specifiek voor 'the method of infrared chemiluminescence, in which the extremely weak infrared emission from a newly-formed molecule is measured and analysed, and for his application'.

Polanyi's fervente hoop is dat men tot een combinatie zou komen van de noodzakelijke activiteit van over wetenschap te spreken en het op gelijkgestemde manier ook toe te passen.